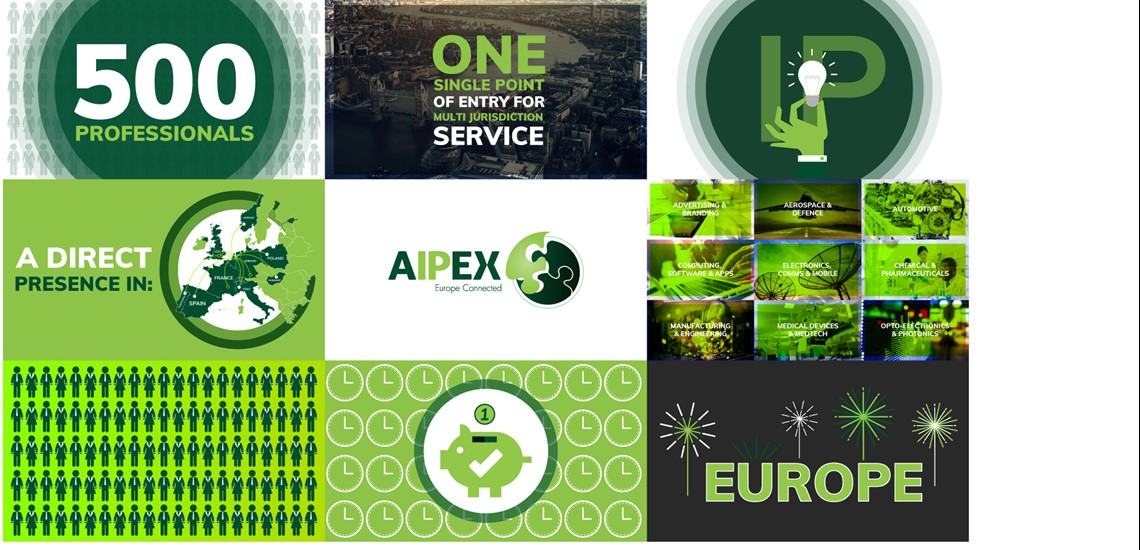 AIPEX was formed in 2010 and is a properly constituted pan-European IP legal practice specialising in design and management of bespoke IP management solutionsAIPEX is ideally positioned to support multinationals (whether European, North American or from the Far East) with IP portfolio management today – and in post-Brexit Europe.
The elevator pitch captures the essence of the AIPEX offer in a couple of minutes. It features on the new AIPEX website (www.aipex-ip.com) that was launched at the company's Cross-Country Conference in Rotterdam in April 2018.
The audio-visual infographic was developed by AIPEX and UK-based Design & Marketing agency, Mosaique Design. Mosaique also designed and developed the new website, its content and SEO/SEM functionality. The high-impact infographic pitch features prominently on the homepage to give visitors rapid understanding of the AIPEX offer. And to explain quickly and clearly why AIPEX should be first choice for multinationals wanting to make the most of IP in a fast-changing Europe. 
As well as a central role on the website, the animated infographic will be available to hundreds of 500 AIPEX IP professionals when presenting to prospective clients.
Announcing the launch of the new elevator pitch at the AIPEX Cross-country Conference 2018, Ms Babs Meijer, AIPEX Marketing & Development Manager said:
'This is a classic example of a powerful, high-impact, ice-breaking tool. It summarises AIPEX capability as an experienced provider of bespoke IP management solutions for multinationals operating across Europe. Like everything we do for clients, it's simple, effective and has a big impact.'