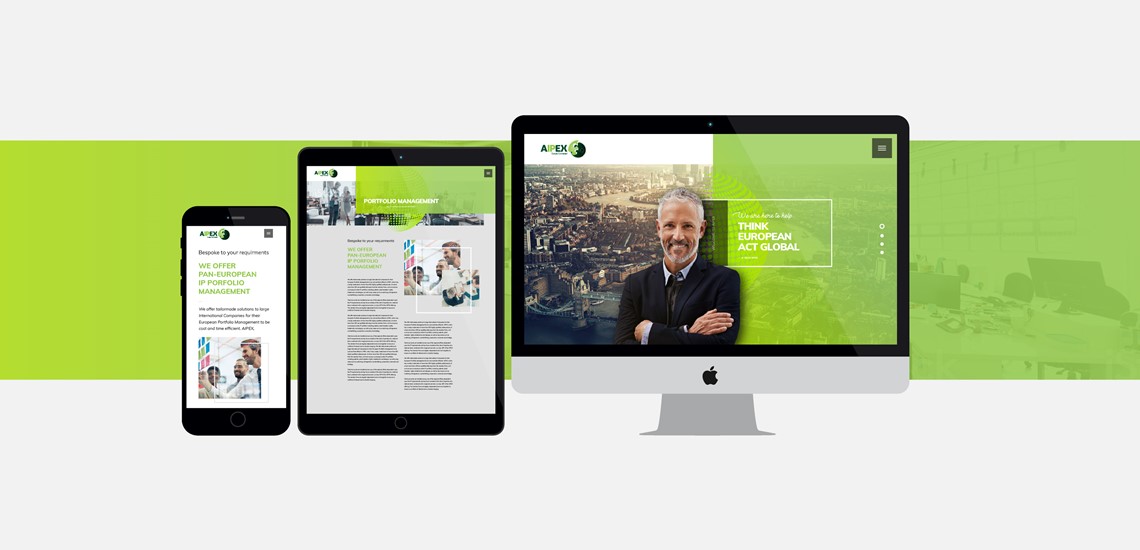 In April 2018, AIPEX, a market leader in pan-European IP solutions management, launched its new website. The website provides a highly visual new design, consistent with AIPEX's leading market position. It also offers a straightforward user journey as prospective clients start their relationship with Netherlands-based AIPEX and its pan-European office network.
AIPEX was formed in 2010 and is a properly constituted pan-European IP legal practice specialising in design and management of bespoke IP management solutionsAIPEX is ideally positioned to support multinationals (whether European, North American or from the Far East) with IP portfolio management today – and in post-Brexit Europe.
A key gateway to AIPEX IP portfolio management solutions
The new website is a key support tool for AIPEX as it helps clients address the challenges of an increasingly complex, sophisticated and uncertain European geopolitical and intellectual property landscape.
The website is a key gateway to AIPEX, which is a convenient single point of contact to a network of over 500 IP attorneys and other professionals, with a total of over 10,000 years' combined IP management experience and 100,000 IP registrations to their credit to date.
Two key functions
The new website has two primary functions:
Firstly, it showcases the AIPEX offer, services and industry communications in one central online location. As such, it is a clear, easy to use reference point for clients and prospects.
The new website is built with the latest fast, easily-navigable architecture. It's supported by professional search engine optimisation (SEO) and search engine marketing (SEM). This supports easy discovery by human searchers using search engines to identify a suitable pan-European IP management partner.
Seamless progression to one convenient point of contact
After reaching the site, visitors continue their customer journey via an easy to use commercial and information resource.
The new website is consistent with the AIPEX commitment to simplify pan-European IP portfolio management. And to free clients to focus on other business activities.
Simple access to AIPEX IP solutions and industry information
The new website has been designed for fast, clear, easy navigation whatever a visitor seeks. It features a powerful content management system (CMS). This makes it easier than ever for AIPEX marketers to update the site with valuable information for visitors:
Services
Sector-related information
Client testimonials
Case studies
AIPEX company news
IP industry news
Rapid contact with AIPEX
The last aspect is arguably the most important. Most people seeking bespoke IP management solutions will search online. Because of this, the new website was designed to rapidly five them understanding of key AIPEX differentiators. And make it simple for them to contact AIPEX via its single service and support gateway.
Considerable thought and effort to help clients
Speaking at the launch of the new website, Ms Babs Meijer, AIPEX Marketing & Development Manager said:
'We've put considerable thought and effort into the new website at www.aipex.eu. Our main objective was to ensure that it gives reassuring, relevant information. And fast access to our proven IP portfolio management. The sooner we can begin a conversation, the sooner we can help businesses make the most of their valuable IP portfolios in European markets.'